It was a fantastic time, which will have to be spread across more than one post. It was great to meet up with my Con-buddies again - and meet some new friends too!

There were Michael hugs, revelations of pant-less Tom, Jefferson Starship and lots of laughs - what more can a girl want?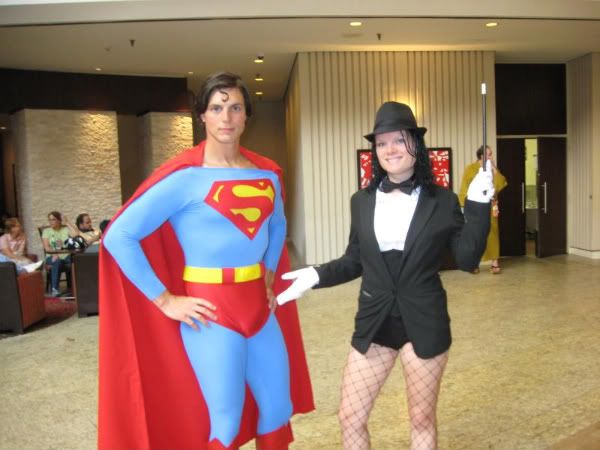 This was a very friendly Con - so many people coming up to chat! Look, this gentleman feels left out of the Mystique/Cookie Monster action...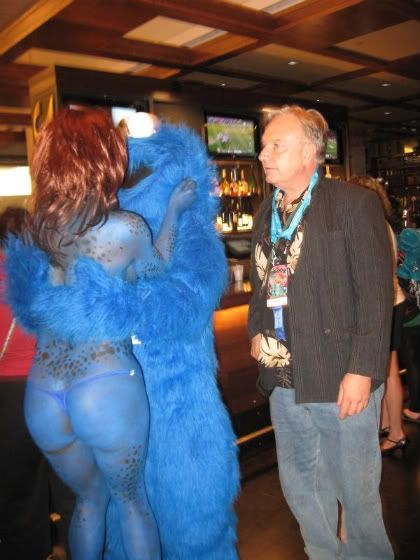 ...but then they invite him in. What a happy threesome!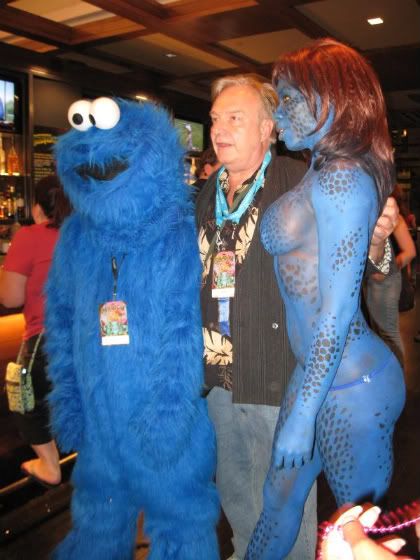 My activities revolved around the Michael/Smallville/Supernatural/DrWho axis - so many fun panels. Friday got off to a good start with Michael coming into the photo shoot, remembering our little group from last year's UK convention "It's the London girls!" and coming over to greet us. This was also exciting to the girls sitting next to us, who wanted to give him a Jersey Shore shot glass. Michael thanked them for the gift but admitted he's never seen the show (which only raised my opinion of him.)

The Smallville panel was on Saturday - huge massive line-up! Featured guests were Michael, Laura, Sam & James, who proved to be a very entertaining combo. Sam has glitter on him here because Carrie Fisher was going round kissing handsome guys and putting glitter on them. She also glitter-kissed Michael. I would also molest hot men if I was a living legend like Carrie! Sam & James studied at the same acting school and laughed over their thespian bond!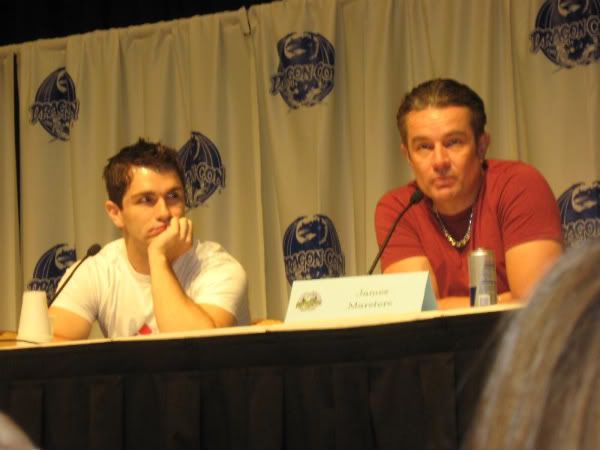 I audio-taped the whole panel but brilliantly left the recorder behind in my hotel room, leading to a frantic phone call from the airport yesterday! Our very efficient hotel has already found it and posted it back to me! So exact quotes to follow, but here's a little summary of some of the panel.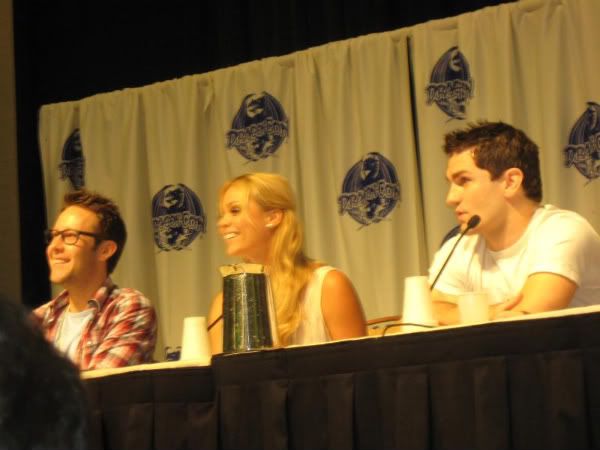 Over the weekend, Michael was asked more than once what it was like to return for the finale. His first answer: "Tom and I made out." Crowd: Oooh! Michael: "Not really!" TEASE! He did think their scene in the finale could have headed in the direction of making out! He enjoyed that scene with Tom very much, even though nerves made him forget his lines on the first run-through. He liked the finale but thought the wedding went on too long and preferred the second hour. (Me too, honey!)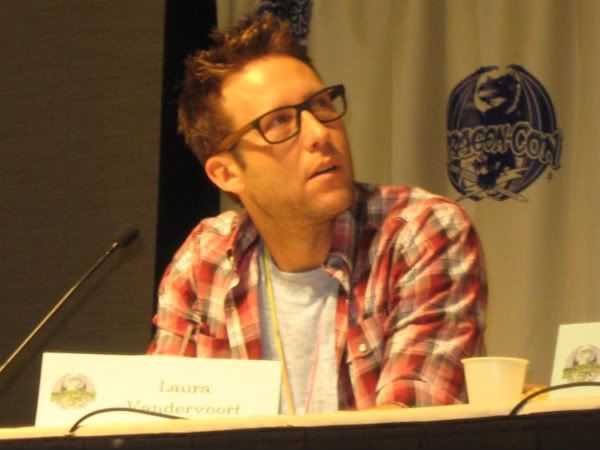 A fan asked how he felt about Lex losing his memories. He said he didn't like it, like it was "throwing seven years away."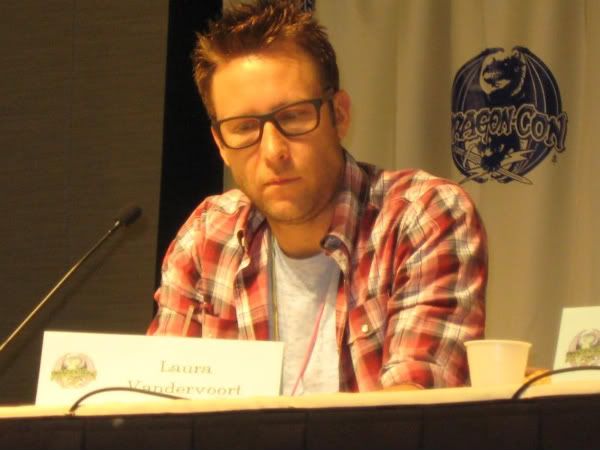 A fan asked if the panel would like to work with Tom again. I knew this would get James-talking - I've met him twice and his Pavlovian response to the word "Smallville" is to spew Tom-love like a geyser. He talked about how smart Tom is, and how naughty. He had to forbid Tom to tell him jokes right after breakfast because Tom's jokes are so rude!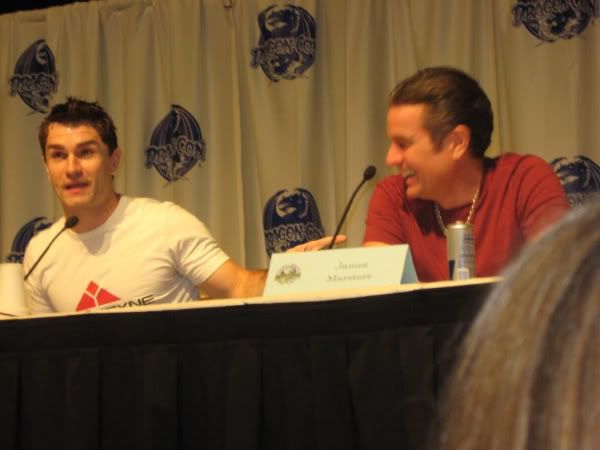 While James was saying this, Laura leaned over to whisper to Michael, leading to this discussion of Tom's penchant for filming scenes in his undies! (Thanks to Tariel22 for the clip!)


After that clip ends, James brings the conversation back to how awesome Tom is, then they move on to talking about how HUGE he is. James said they had to build him ramps of boxes to get his head in the same frame with Tom's. Sam called him the "pantless giant" and talked about how impossible it was to look menacing next to Tom. He's 6'2 and spent the entire season on his tiptoes - his calf muscles got really strong.

Laura spent lots of time standing on boxes with Tom - she says Tom also taught her the superhero stance, to stand at an angle to look bigger. Michael recalled the "Kneel before Zod" scene, making jokes about wearing the coat. He said he could not get the line out and Tom only made it worse by laughing at him from the ground "Say it! Say it!" James pointed out that a kneeling Tom is the same size as most people standing. Sam asked if Tom was wearing pants.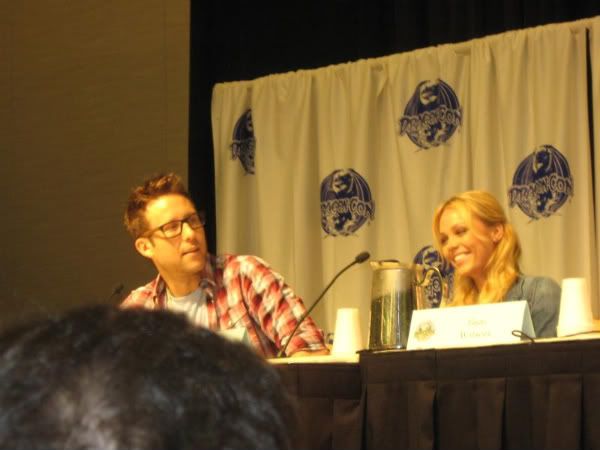 There was a baby wearing a Supes jersey - but named Lex! The Dad suggested that Laura enact her goodbye to Clark with the baby. Michael can't resist babies but this one snubbed him and started crying. Michael: "You should rename him Clark."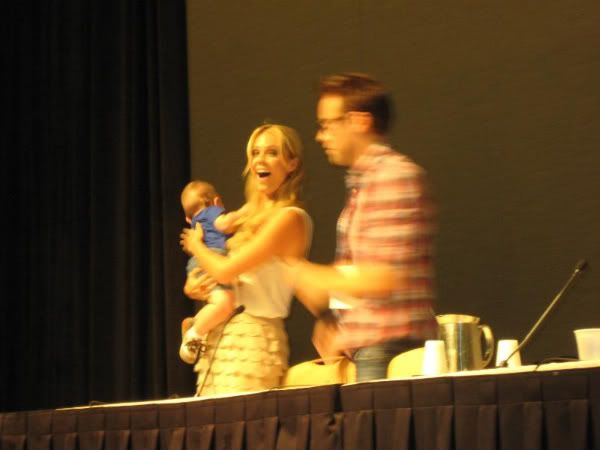 Vid of Michael, Laura & Baby, via
miss_mcelroy

Michael to James: "We should do a show called Spex: Spike and Lex - The Sad Years." When James had to leave the panel a little early, Michael got a goodbye kiss! Link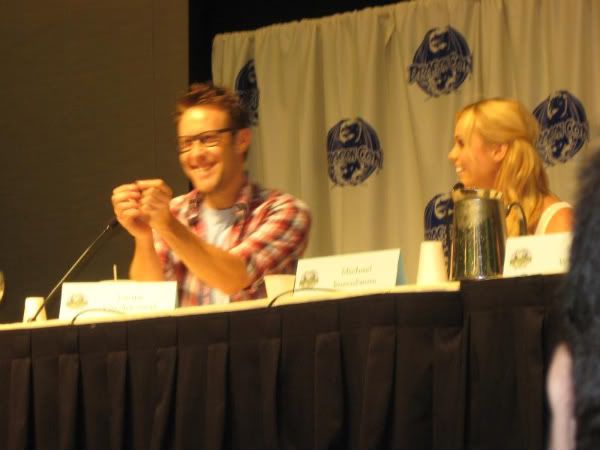 Cute, silly thing!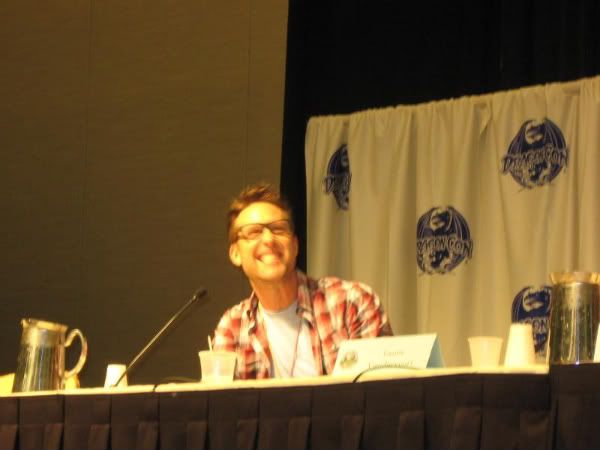 I'll go through the audio in a few days & look for any more quotes of interest!

When I go to Cons with SV guests, I try to elicit a Tom story, since the Big Guy never goes to Cons himself. If I give the guest a screencap of a scene featuring their character & Clark, sometimes it prompts a reminiscence. I tried this with Laura, Chris Heyerdahl (Zor-El) and Chris Gautier. Laura signed an Apocalypse 'cap, and reminisced about how much she enjoyed the episode, getting to do a different take on the character. She had mostly lovestruck dudes in her line so she seemed to enjoy talking to a woman for a bit, but no Tom tales, alas. She is stunning in person!

Chris H. was lovely & chatty, said my name is the same as his close friend. Very sexy in person - I was quite taken with him! He signed a 'caps of Zor-El fighting Clark in an alley in "Blue". He said he & Tom noticed that there were blue, red and yellow lights shining in the alley - not put there by the show, just serendipity. He told me to rewatch and look for the Supes colours. He said he would have loved to gone back on the show one more time (and I wish that had happened.)

Chris Gautier didn't have a line-up and seemed happy to talk. I asked if his S3 character on Smallville (Lex's tech guy Delete) had evolved into Toyman. He said that wasn't deliberate, though it fit very well. He'd loved working with Michael but the risk of doing a small role on Sv is that you might not get called back for a big one so he was thrilled to be offered Toyman. We discussed how Toyman is a damaged character and vulnerable.

As soon as Chris saw this 'cap, he had this to say about working with Tom: "I almost fell in love with him! It's his gaze. It's just so intense and he's so generous as an actor."

Then Chris drew a little picture of himself!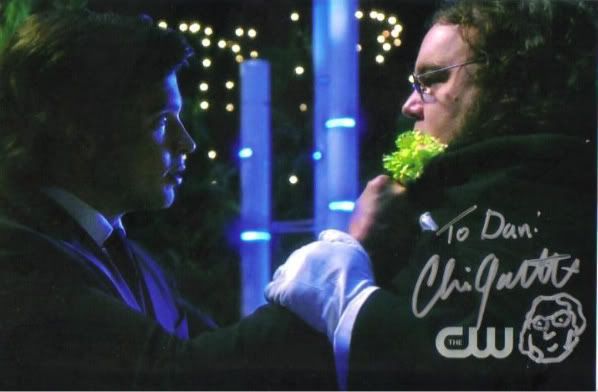 More tomorrow!