From Bleeding Cool website:"Bryan Q Miller, also recently of Batgirl until the DC Relaunch, is to write a new novel, telling the story of what happened to the Smallville cast after the end of the TV series, in continuity.

The bolding is mine. What happened to the cast? So rather than continuing Clark's story, the book will recount the thrilling saga of the cast going on auditions and Tom's trip to Germany to buy a horse? I'd totally read it!

Link

Speaking of post-SV projects, Michael's old high school has posted an interview with him in their newspaper! Much discussion of his upcoming made-in-Indiana film. Interview's on page 3.

Link



An artist posted this Michael-pic yesterday - he designs shirts & gives them to his fave celebs at Cons. His artwork looks great but I'm equally impressed by the way Michael's own t-shirt is hugging him!



Source

There's a new tumblr devoted to BTS Smallville. I'd never seen this shot of Michael & Justin before.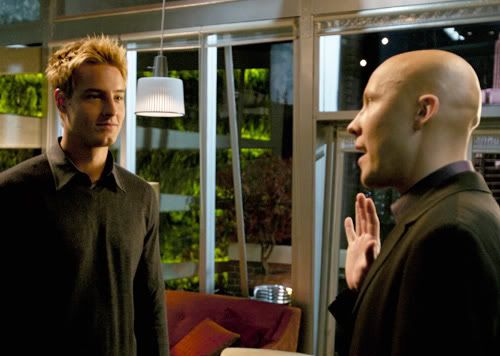 SVBTS

This fan posted a photo on MR's facebook wall - great angle for chest ogling!