In addition to his Windy City Times interview, Michael recently did a short interview with Chicago based gay & lesbian magazine "Outlines." Here's the link. It's a PDF and the Michael part is on page 27:
http://www.outlineschicago.com/images/publications/nightspots/2008-12-24/current.pdf
Here's a transcript, in case your computer won't open the file:
Q:
You'd like to be under the mistletoe with....
Michael
: Vera Farmiga from "The Departed"
Cool choice! Quote from Vera: "
I can't do Los Angeles. I've always been the anti-Barbie. I don't want to be in a place where almost every woman walks around with puffy lips, little noses and breasts large enough to nourish a small country
" (However, since Vera just had a baby with her partner, she is currently unavailable for Michael-kissage. I would be more than happy to take her place....)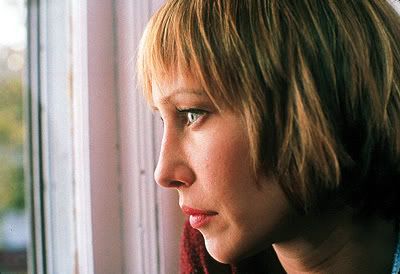 Q:
It's truly better to give than to receive?
Michael
: Give, always.
(Aw!)
This next question references the scandal of Illinois Governor Rod Blagojevich (who recently tried to sell a U.S. senate seat.)
Q:
You're Governor Rod Blagojevich's "Secret Santa". What would you give him?
Michael
: "A brain."
And to go with yesterday's man-bag....Michael, the shoe-model!