Because hockey was making him sad today. And then he thought someone got killed on a mountain near his house, but it turned out to be just DRAMA!
Michael makes the list of
The Biggest Boys in Hollywood
(Why do I suspect Jamie Kennedy was the source for this story...)
Fan Encounter
I met the actor who plays Lex Luthor on smallville once. It was at a steak sandwich restaurant in a mall in LA. When i saw him i loudly whispered "It's LEX LUTHOR" He turned around while laughing, shook my hand and we chatted for about 5 minutes. Good times.
Link
Vintage Fan Encounter
My almost famous moment - my husband is friends with Michael Rosenbaum who played Lex Luthor on Smallville. I met my husband one night when the two of them were out bowling in college and breakdancing on the lanes.
Link
Random Interview Mention
:
(This is an odd first question for SGU actor David Blue)
We were just talking about that new Syfy comedy about washed-up genre stars. Do you know Michael Rosenbaum?
He's a good friend of a writer friend of mine, but I've watched Smallville from the beginning. In addition, on Stargate, half of us have seen Galaxy Quest and the other half hadn't, so we sat down with some bottles of wine and made them watch it and said, "This is your future."
Link
Photos posted by MissLuthor at Ksite, which I hadn't seen before. (His buddy is Adrian Holmes, who played Griff. Thanks to Tariel for the info!) Note his famously fabulous leopard print set chair!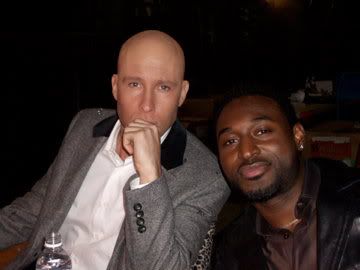 Kissy face!