Had a great time in Chicago - excellent fangirl company, gorgeous city and lots of beautiful men to look at! I attended panels with Brandon Routh, Manu Bennett, Will Yun Lee, a solo Michael panel and a Smallville panel with Michael, Allison, James & Aaron!






Brandon didn't get to talk much at the Superman panel (Neal Adams dominated) but wow, was he great to look at!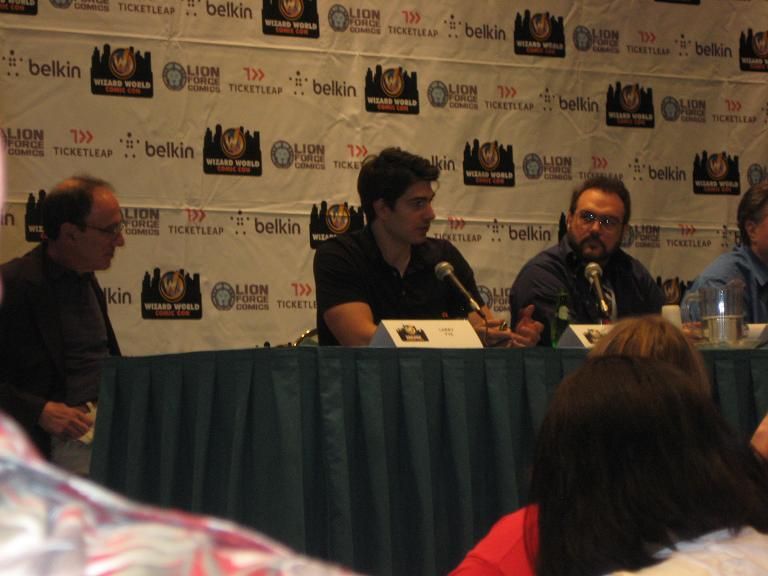 He was asked what direction he'd have liked to see a sequel to "Superman Returns" take and he wanted more of the Clark/Lois love story. He believes Clark Kent is the true hero, because he's the incarnation of Superman that people can talk to; they're in awe of Superman, they are themselves with Clark.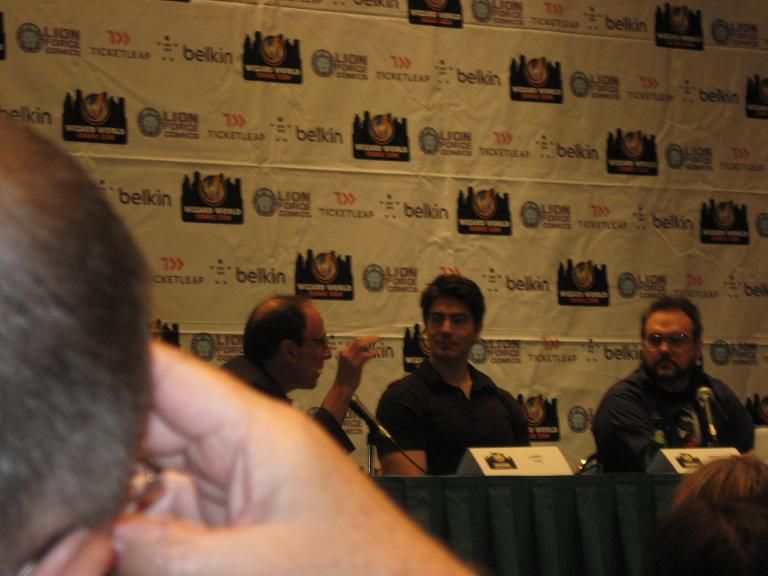 Manu Bennett of "the Hobbit", "Spartacus" & "Arrow" was thoughtful and lovely. I didn't know much about him prior to his panel but left a fan. Fanboys kept asking about his martial arts training & Manu explained that his dance training was more important for the work he does now.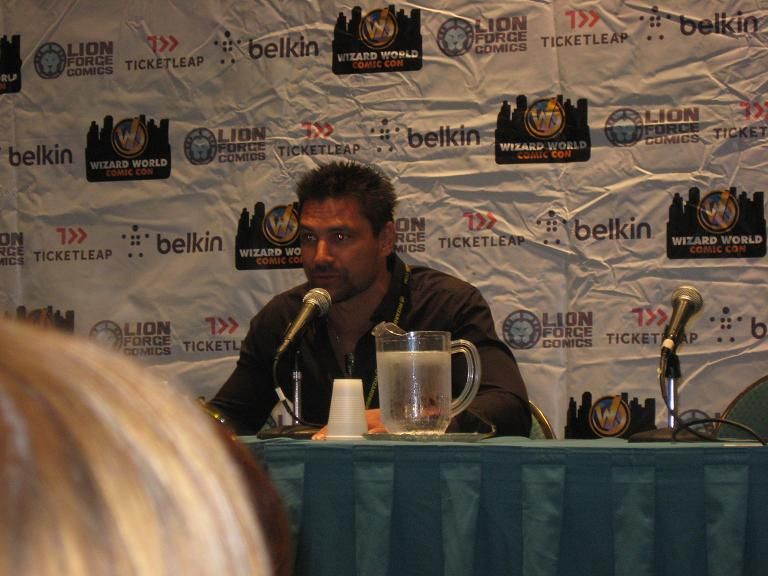 Hugging a fan dressed as Naevia from Spartacus.



Will Yun Lee is on H50 & has been in loads of movies, including Wolverine. His panel was short but very funny. His Korean parents didn't accept his career until he was mentioned in a tiny paragraph in a Korean newspaper & his mum still rates his movies this way: "You die?" and "You no smile?" He told a hilarious story about playing Ice T's "adopted ninja son" in a TV movie and having to do a rap about chopsticks.



Michael, as always, raced into his panel and took charge! Instead of fans coming up to the mike, he ran around demanding people ask him questions. One person asked the weirdest thing a fan has done when meeting him. He mentioned being groped but added that most fans are great *comes over to our row*: "Except this group. They're TROUBLE!" Then he insisted we say our Michael-given nicknames into the mike, while I tried to sink back in my seat.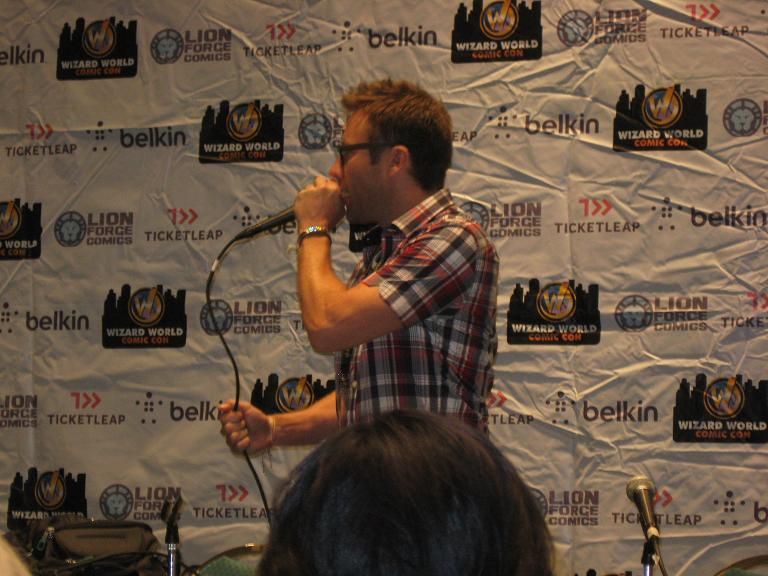 I love watching other fans react to him. Lots of laughs in his panels.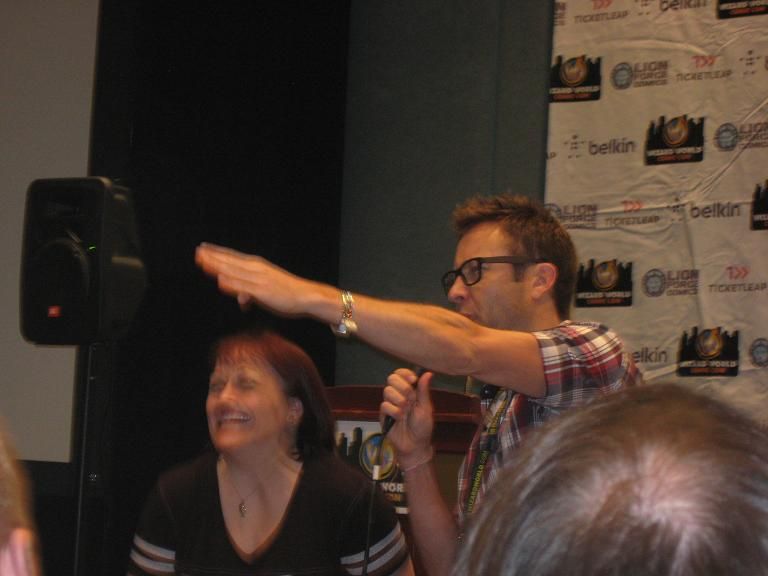 There was one bad question (not asked by fan in picture, who was sweet.) A different person asked if it was true "Tom. W is a douche like everyone says." Michael defused it: he said Tom was sweet to him, the one quarrel they had in 10 years, they hugged it out. He added that Tom is shy. Before moving onto the next question he said "that was really uncomfortable." The person who asked was young but why would you put Michael on the spot by being rude about his friend & colleague?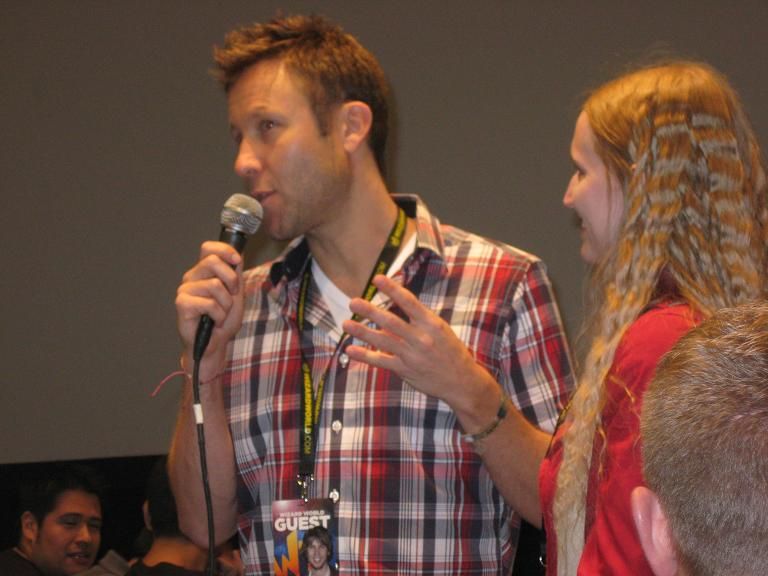 Fan gets a cuddle...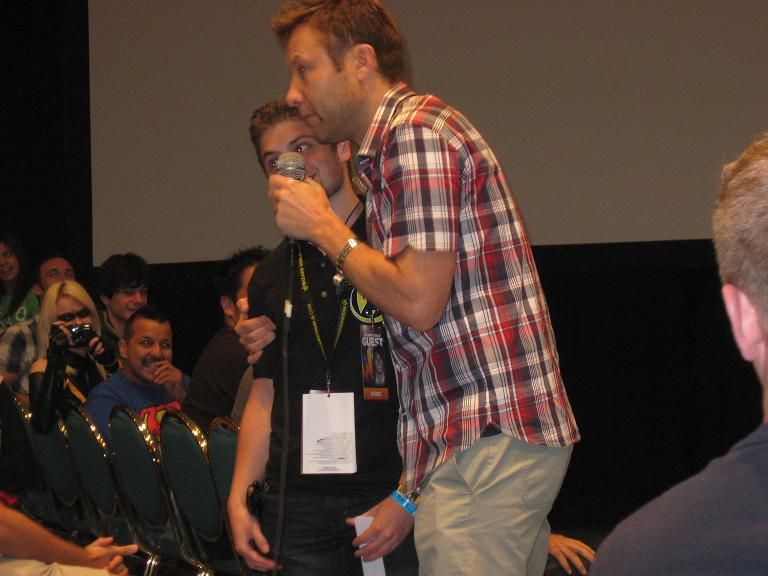 ..and a giggle.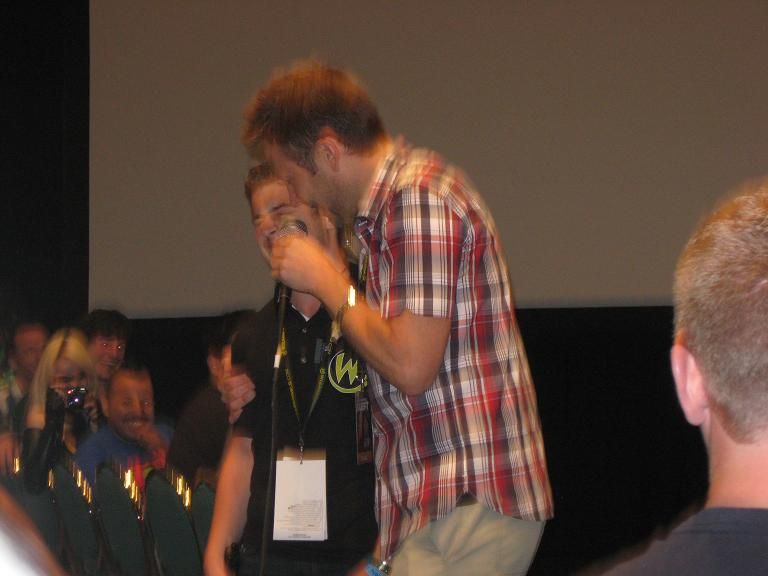 The Smallville Panel in a rare serious moment!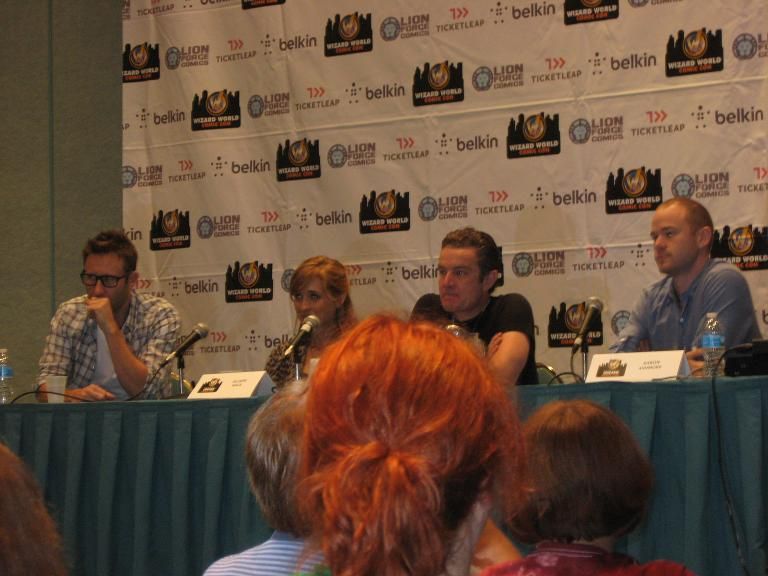 Michael & Allison had to share a mike which led to cuteness.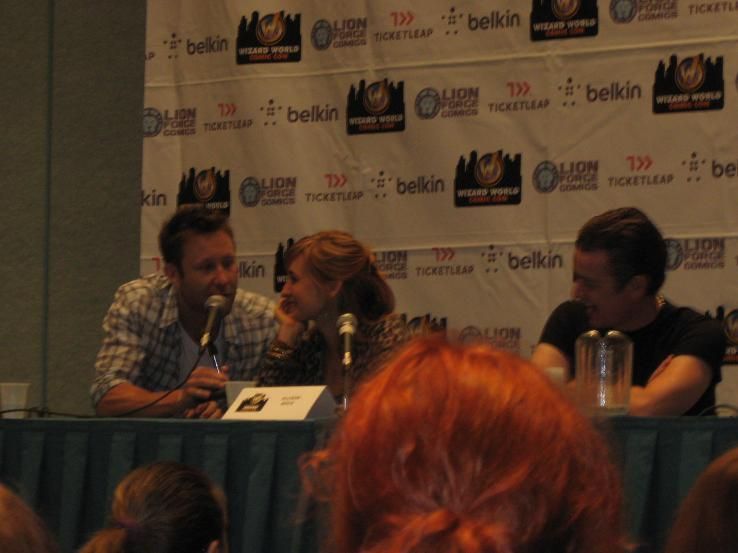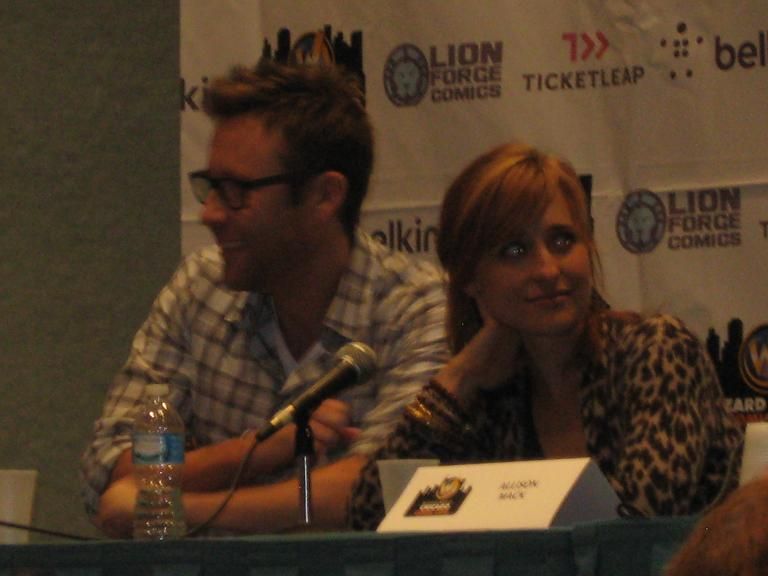 Allison: "I worked with the most beautiful cast on television! It was not hard. It wasn't difficult."
Michael: "Actually she was talking about Tom. I was the quirky weird guy…"
Allison: "So was I."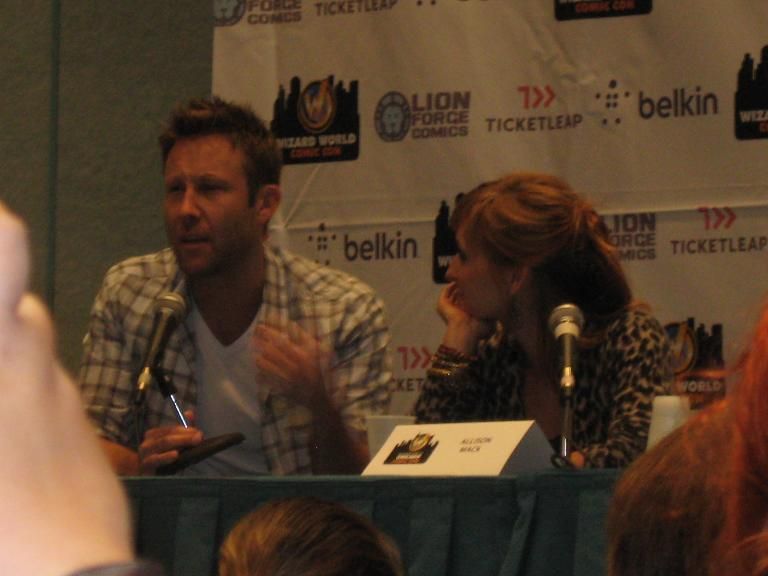 Michael: "I've got a question. I'd like to know why Aaron is trying to be Lex Luthor today, with his hair. What's going on, buddy?"
Aaron: "You had a massive impact on me, Michael. I didn't want to be embarrassed by it but you brought it up. You've really, really affected me. That performance...and I'm taking a page out of your book."
Michael: "You know what? I'm learning a lot from you too!"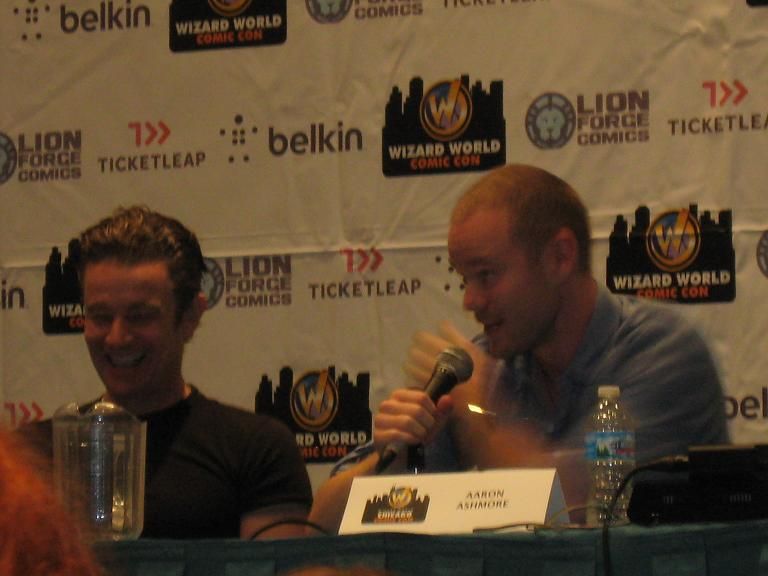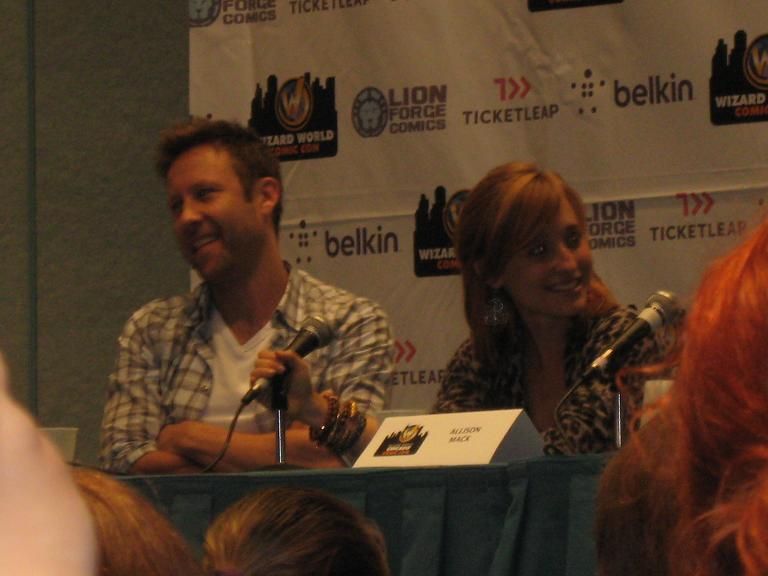 Fan to Allison: "Who's the best kisser on the show?"
Aaron:"Say what you must, Allison!"
Allison: "Well, you can't get much better than Jimmy Olsen!"
Michael: "You can...but you haven't tried." *kisses her cheek*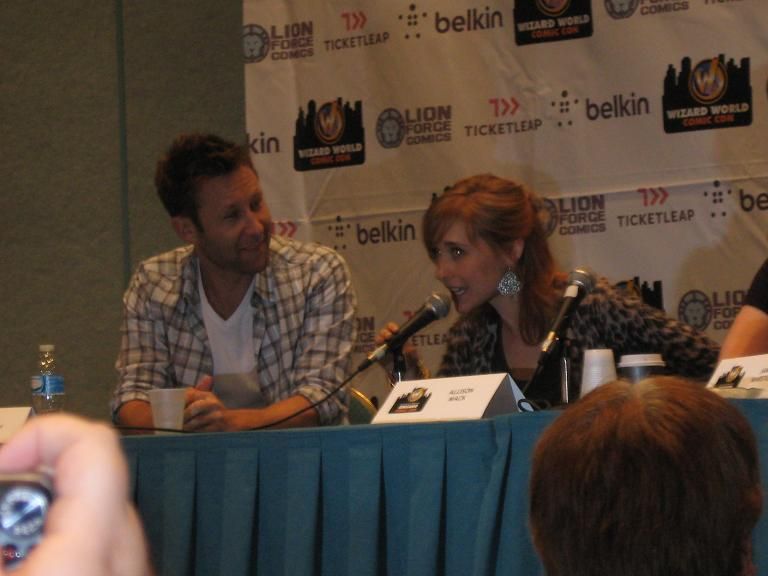 James to Allison: "You had fun being Brainiac?"
Allison: ""Omigod, such a good time! I got to beat up Tom."
James: "You beat him up?"
Allison: "I picked him up over my head."
James: "He always beat me - I never won a fight with him!"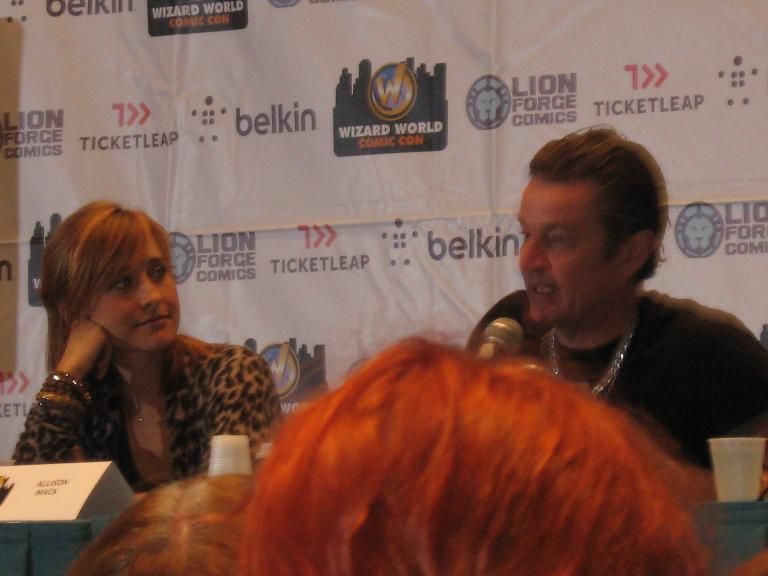 Tactless fan: "I didn't watch Smallville because of Tom-"
Michael: "GET OUT!"
Tactless fan to Allison: "You were the smart girl. You weren't like beautiful, gorgeous, long brown hair, really tall..."
James to Allison: "But you are gorgeous."
Michael: "YES SHE IS."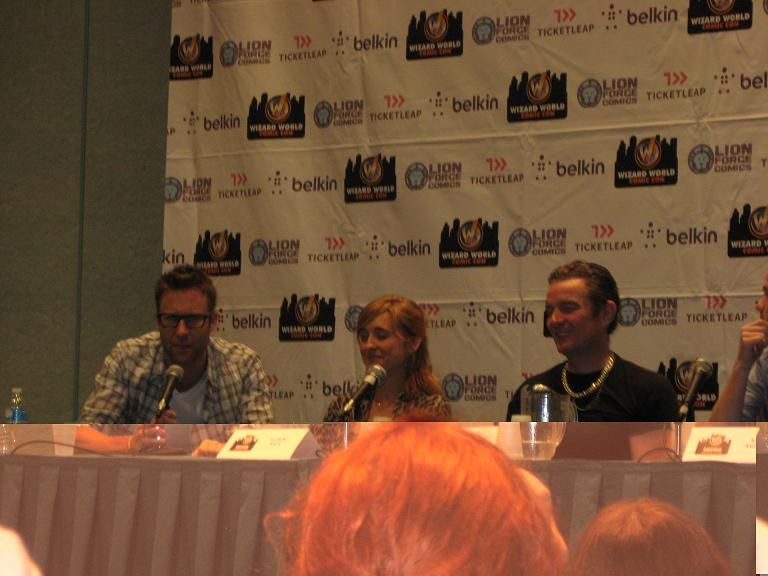 Michael talks about crying on his last day on set: "I just started crying, it was really emotional. It was a family for a long time. I think even Tom cries. He always acts tough, like "I'm Tom. I don't need anybody!" That's bullshit. The guy cries more than anybody. He's probably crying right now because he's not here with us! In Chicago!"