Yes, I know I've seen him numerous times! But he always brings the goods! This time he was at Salt Lake City Comicon and his panel drew a huge crowd. Behind the cut: quotes on Clark & Lex, teasing Tom Welling, learning from John Glover, kissing Kristin K and his thoughts on Supernatural and Jensen & Jared!






The panel before Michael was Giancarlo Esposito who's been in tons of movies & TV - most recently in "Breaking Bad", OUAT and "Revolution'. Busy guy! He was lots of fun - a question about how he got into character as Gus on "BB" would take him off on a highly entertaining tangent. He really commands the stage.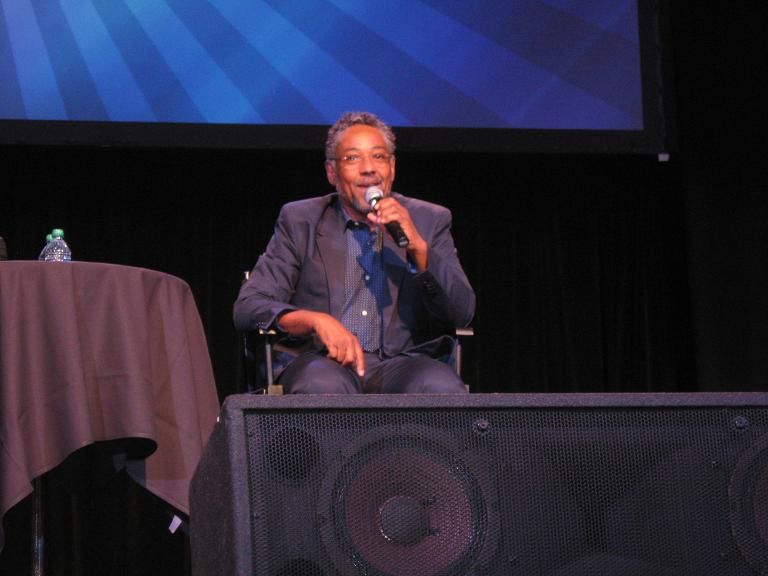 Michael commands a stage too. But he doesn't stay on the stage. He roams around and it's hard to get a photo of him because he won't stay still!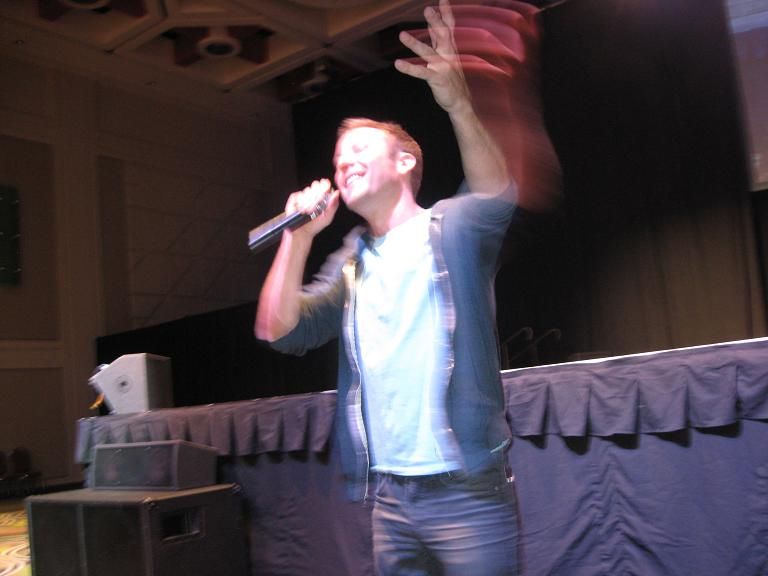 With his own legs behind him!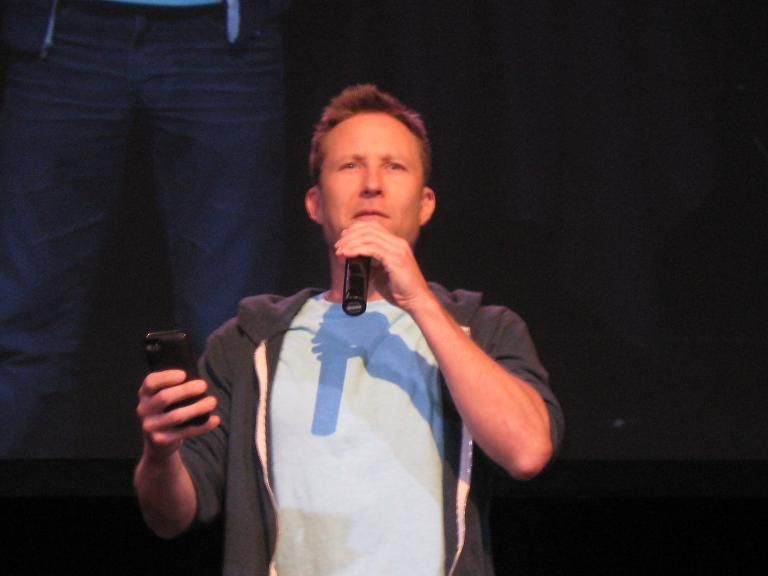 Michael on Lex: "You just kinda love the guy...you don't want him to turn bad because you see what he went through. And he's trying to be good. The real liar - we all know who the real liar is on Smallville - and that's Clark Kent! (crowd applauds) He's a liar! He didn't tell me about the super powers. Episode one should have ended the whole series! He should have been like "Listen, I saved you. I lifted up the car. I ripped you out of the car, I gave you mouth to mouth...I slipped some tongue in there because I'm a perv...and let's rule the world together, Lex!"



There were lots of costumed babies in the audience: a little Supergirl behind us, a toddler batgirl, a sleeping Baby Hulk, a Eleventh Doctor baby with a bow tie...Michael went & said "hi" to all of them!



Fan: "Can you call me Superman?"
Michael: "Hi Superman. Now GET THE HELL OUT OF HERE!"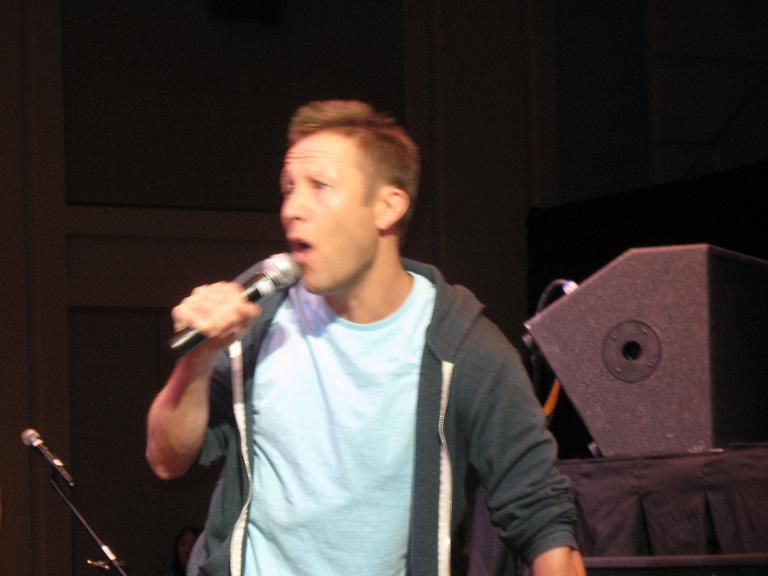 Butt shot!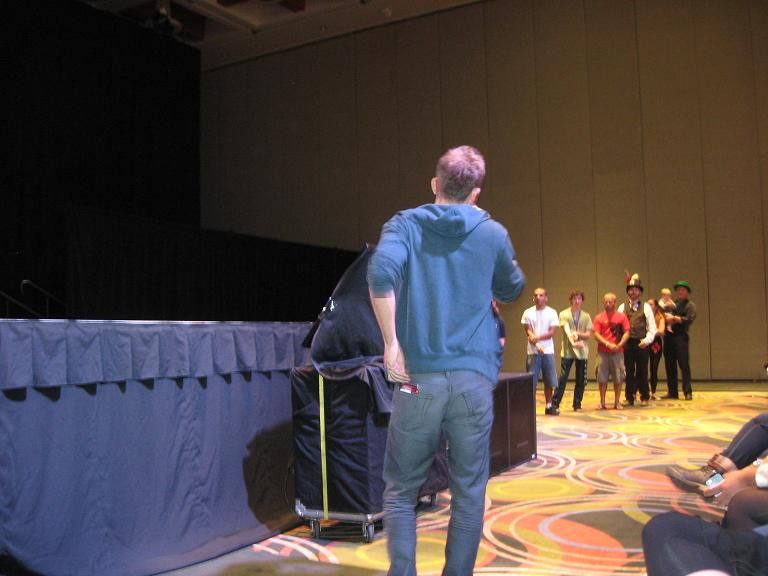 Fan: *asks about kissing Kristin K*
Michael: "Every time I kissed her, they had to put her lips back in the refrigerator because they were melting! They were like hot butter on a popcorn sundae...I don't know what that means."



Fan: *asks if Michael might go on Supernatural*
Michael: "It's like season 18 over there! (imitates voiceover) "Michael Rosenbaum will be making an appearance on Supernatural, episode 900! I actually like both those guys. They're amazing guys, amazing men: generous, sweet, good actors."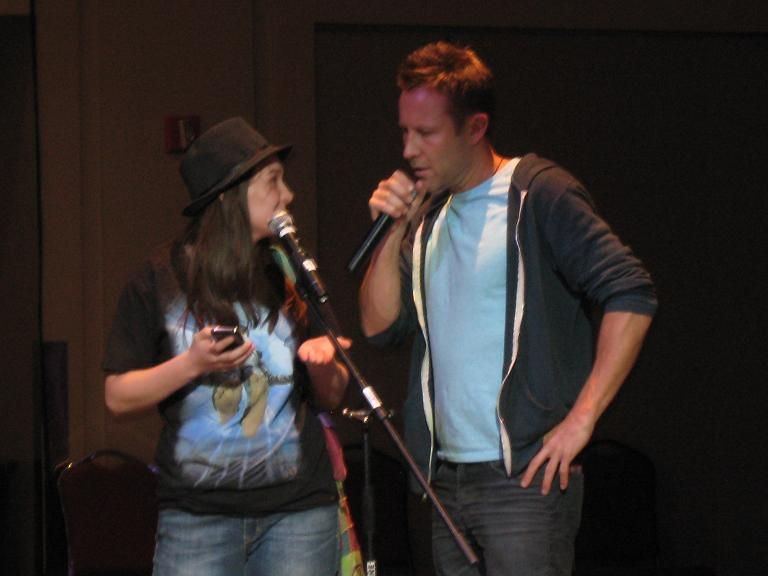 Michael to audience: "Who's pretty athletic? Who's pretty athletic here? Raise your hand if you're honestly athletic. Kid with the blond hair, come up here. Get over here. I want you to jump up on stage and give me that bottle of water." (crowd laughs) What? I'm forty two!"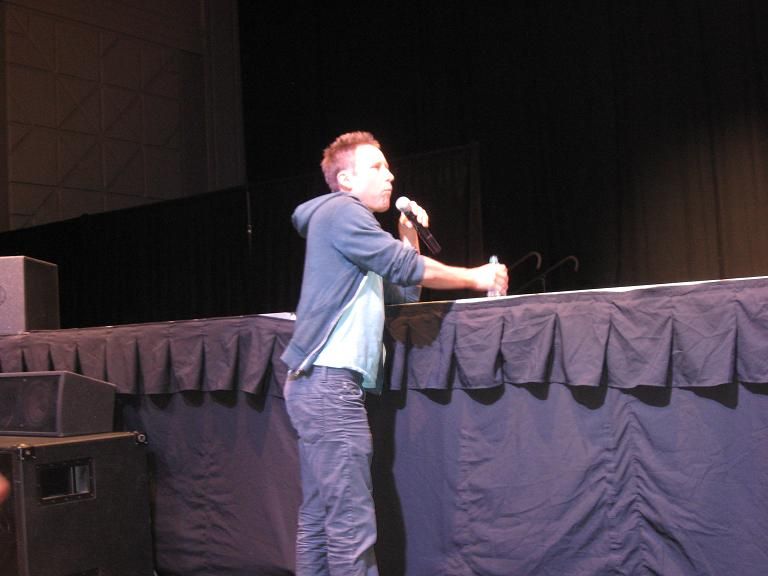 Fan: *asks about hardest scene to shoot on SV*
Michael: "Remember the episode at the end of season one where there's a tornado, a twister...(to me) What's going on in there, Dani?"
Me: "Tornado and the mansion's collapsing."
Michael: I had to throw all these books off the shelves and there was a scene and I walk talking and I just couldn't do it. I couldn't do the scene. I was thrown, it didn't feel real. So I stopped: it doesn't feel right, guys. I need five minutes; I've got to think about this. I walked off, it was a really rough day. I wanted it to be good. And John Glover comes over and goes "what's wrong, son?" Like, we're still in character. "I don't know, Dad. I can't get it, I don't know what's going on, it's the timing." (As John G) "Just listen to me, just listen to what I'm saying." And I looked at him and I go "Oh my gosh, I haven't been doing the most important thing there is when you're an actor: just to listen!" I wasn't listening to what the other actor was saying. I was concerned about knocking stuff off and the tornado and John just said "listen to me" and as he's talking, the next take - that was it! He gave me a lot of guidance and some time by the end, I started to give him some!"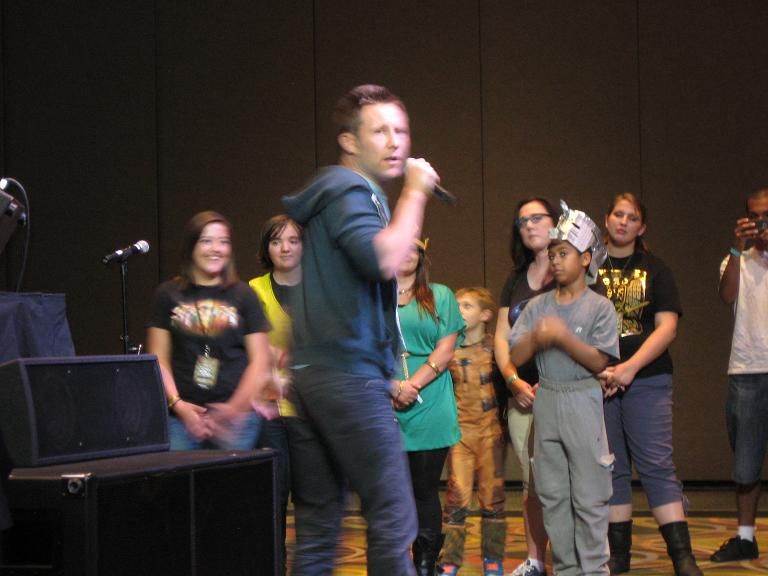 Fan: *asks for Michael's favourite scene with Tom*
Michael: "One of them was when he's giving me mouth to mouth in the pilot. You can just see my lips quivering with laughter. I was just saying stuff like "Can we get Tom a tic tac before this take? I don't want to lose the moment!" He's like "Dude, shut up!" This guy is breathing down my mouth and I just thought it was kinda funny!"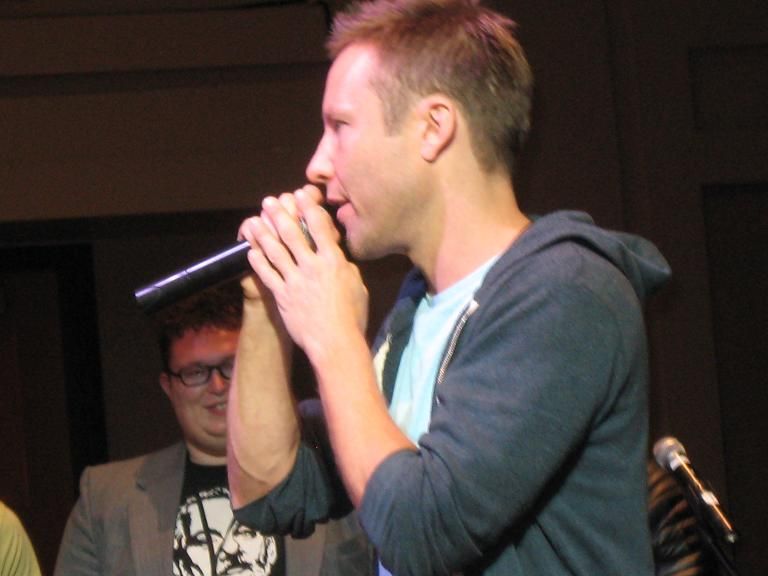 Fan: "My husband is a huge fan."
Michael: "Where is he?"
Fan: "He's right there?"
Michael: "Why aren't you up here if you're such a big fan? Get up there with her! Give it up for the biggest fan ever...somebody's face is getting redder by the moment."
Fan: "I was wondering if you could give him a hug and a handshake?"
Michael: "That could have been weird. Give him a hug and a hand.....shake." (hugs the guy)



Fan: Did you ever have a heart to heart with Tom and say "Seriously. I shaved my head and you can't put the suit on?"
Michael: "No, but some days I'd walk in and he was like, you know, grumpy and I'm like "Oh boo hoo, I get to just walk in and shave my face a little and I'm done, ready to go film. I don't have to sit in the make-up chair for two and a half hours...Life's so tough. I've got to put on the same flannel shirt and the same stinkin' jeans!"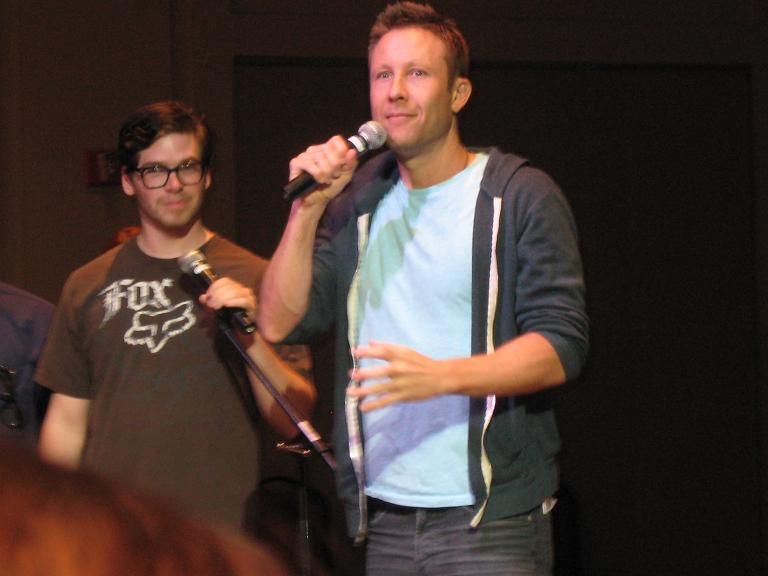 Michael on Tom: "We were so comfortable with each other, we were just goofing on each other like that!"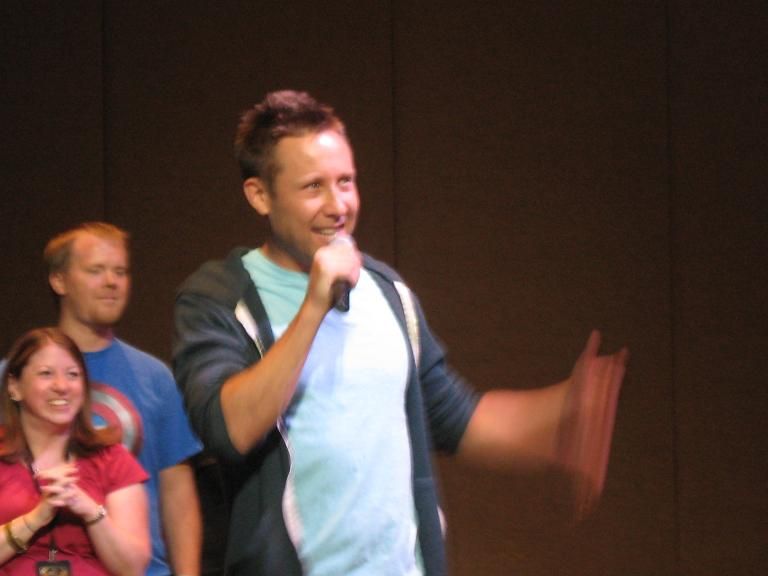 Note; I've mostly transcribed the SV questions but he was also asked about "Breaking In", "Always Sunny in Philadelphia" "Justice League" and "Back in the day." Still waiting to hear if his new show "Impastor" will be picked up by TVland - he says TVland has aspirations of making AMC type shows so fingers crossed!