Happy birthday to
lisamdixon2002! Hope you had a Spike-tastic, Marsterriffic day!

Happy birthday to
dawnybee! I adore your posts beyond words. Each one is a perfect entertainment digest, with pretty pictures of pretty men, combined with fabulously acerbic commentary. And since you've introduced me to so many bands, here's a song for you. Little Jackie used to perform as Imani Coppola (remember "Legends of a Cowgirl?) Her new song is called "28 Butts" and it's hip-shaking ear-candy!
https://www.yousendit.com/transfer.php?action=batch_download&batch_id=TTZsanZqQ0NoeVozZUE9PQ

And happy birthday to the other New Year's baby,
ir3naus as well!

MICHAEL! I was looking back through old entries....he was a busy guy this year! Behind the cut, a sampling of favourite pics and quotes from The Sexy in 2008. Be warned: longwindedness!



January! Michael went to Sundance and impressed two fanboys with his friendliness:
So my friend Joe and I were outside the Entertainment Weekly party and we saw Michael Rosenbaum! I immediately walked up to him and asked him for a picture. He was really one of the nicest celebs I've met and he responded with a warm and excited, "Sure!".

Michael let the guys ask him a few questions:
Q: Will you do me a favor and tell Tom he has to wear the suit in the last episode of the series?

Michael: (laughs) I keep telling him that.

Q: And he keeps saying no?

Michael: (laughs) Yeah but we'll see.

Q: It's his obligation.

He just laughed and I thanked him for his time since he was heading into the party. He was really nice and was a great guy.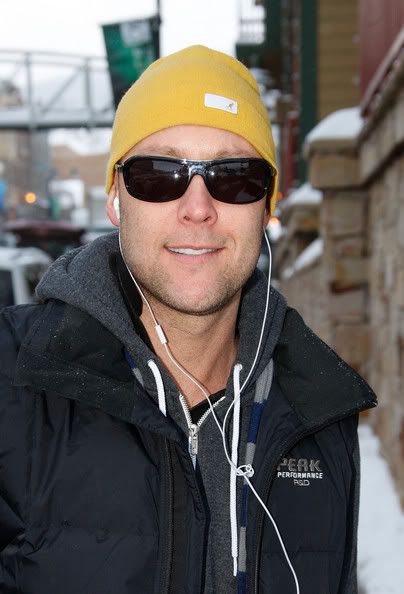 Michael also made an owl hat impossibly sexy!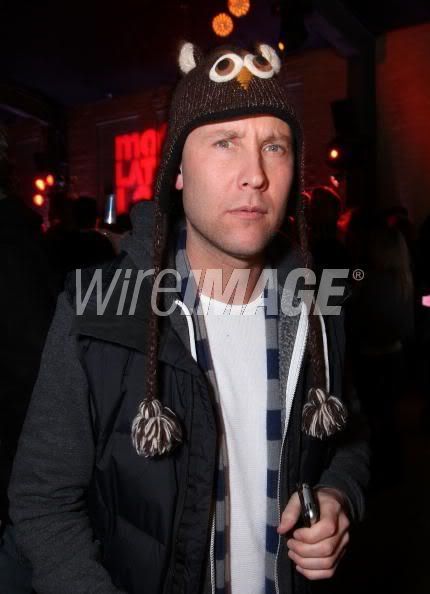 In March: Michael m.c'd the Ronald Macdonald Hockey Challenge - and fortunately there were many fangirls with cameras to capture his beauty! One fan brought her baby and wrote:
"I was in line thinking how funny it would be to have someone sign my baby like in Taladaga Nights and when we got up to him he was like "Can I sign your baby? Michael Rosenbaum kept trying to get Max's attention waving at him the whole time.. He was like that's the best baby I have ever seen!"


gyri got an amazing photo of Michael smiling at Max!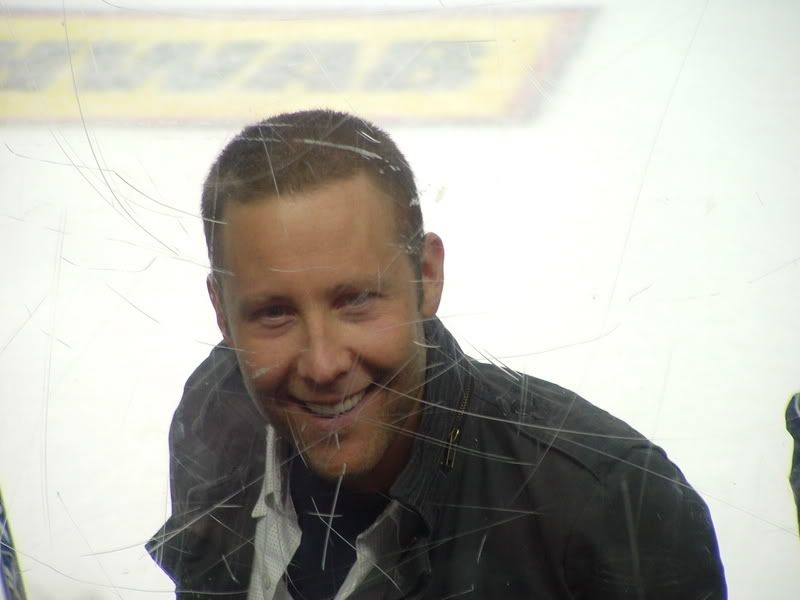 There were completely awesome photos and accounts from
lexalicious70 (She gave him Flash and Michael gave her the rock and roll devil's horns!) and
touchstoneaf (Michael read her note and giggled!) And
mailerose managed to vid almost all of it. I especially love this clip, where Michael leans comfortably against best friend Chris and Tom Arnold notes: "Michael, you would not do well in prison. You'd be popular. They'd like you."


At the Superbowl, Tom Arnold also had great difficulty keeping his hands off Michael...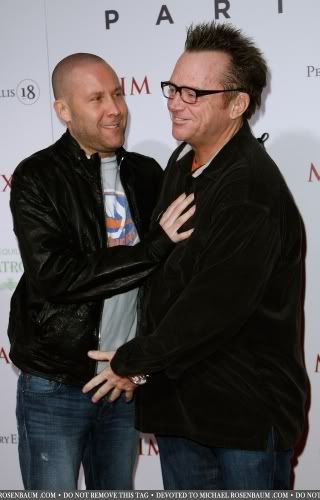 And Michael looked adorable concentrating on a game!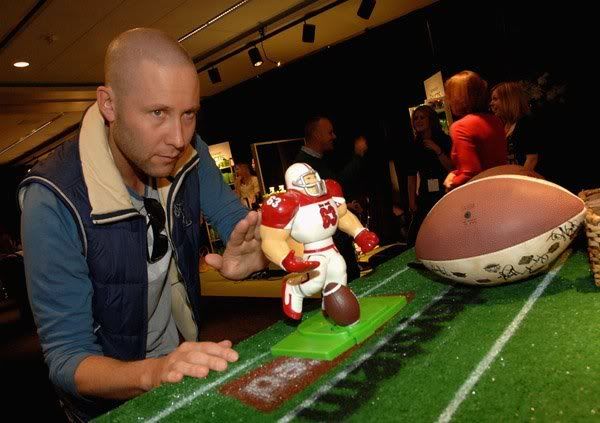 Before the game, Michael was interviewed by a Seattle radio station and revealed: "They called me Raisin Bran when I was a kid!" Adorable interview - the DJ's are total fanboys and give Michael lots of love! It's still archived here, if anyone missed it:
http://www.kisw.com/pages/2645600.php

Also in March: Michael attended the Cut 2008 festival to support buddy James Gunn. The result was cute pictures!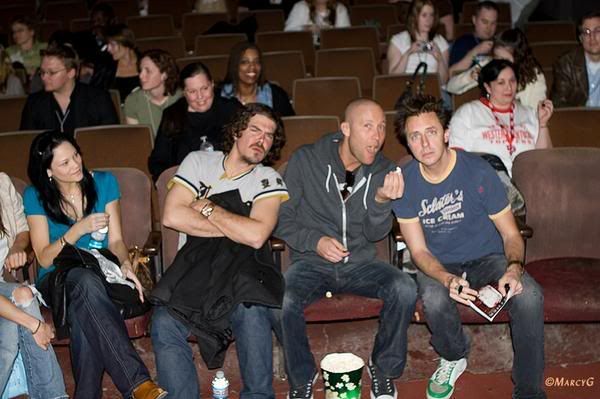 The M.C for the event went and sat in Michael's lap - I can't blame her for that! (But I'm very jealous!)



About a "Slither" discussion panel, a fan wrote:
Eventually, Michael Rosenbaum got up to leave, which drew ire from the gentlemen on stage (James Gunn, Nathan Fillion). Rosenbaum turned around and said, "This movie has been out for a fucking year!" and then continued to walk toward the exit. This was just too damned funny, but it did signal the apparent end of the panel.
Hee! Of course. The party ends when Rosey leaves!

In April: Michael went to Calgary for a Comic Convention.
lisawest99 wrote up an amazing account with very pretty pictures, as did
charlea2! Jake Black, the host of Michael's panel, noted:
An hour before our panel/presentation on Smallville, Micheal and I met to chat briefly while he ate. The guy is great. He was totally cool to talk to, and said he was glad I was there for the panel. He posed for a picture (which I screwed up with shaky hands...), signed a Smallville magazine for my sisters, and we headed to the panel....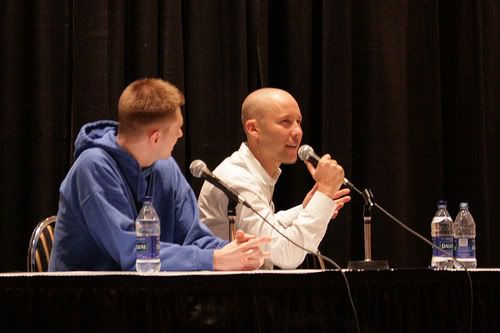 (photos by melodramababs)

Also in April: Michael announced he would not be returning as Lex, (and the fans went through the seven stages of grief!) Michael was a bit "emo" too, revealing:
"I said goodbye to the crew, gave them all hugs, we were really close. I wasn't choked up, and I was like, well, okay, I'm not gonna get... so I went into the makeup trailer, and the last time she cleaned my head, because usually it's like an hour and a half process, putting makeup on, and at the end of the night she takes it off, because you're not supposed to see a hairline for Lex Luthor. So she takes it off, and she gives me a hug and she's... my makeup artist, her name is Natalie, she says, "I love you!" and she starts crying. So I was okay, and then I walk out the door and I turn around and I look at her and I know this is my last time walking, and I just lost it like a little puppy looking for its mama, I mean, I just started crying, I was like, oh my god, I'm crying, Lex doesn't cry!"

(Comparing himself to a puppy is just illegally cute!) Here's Michael & Natalie: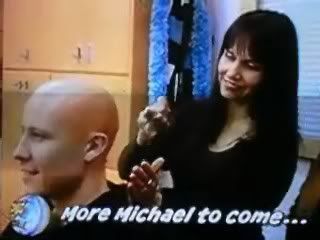 In the spring, Michael unveiled a new look, and it was HOT!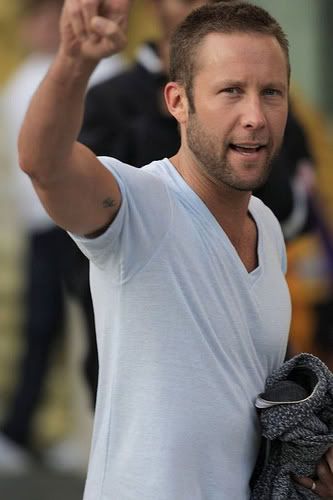 He also started using his "serious face" for the cameras and this was also hot: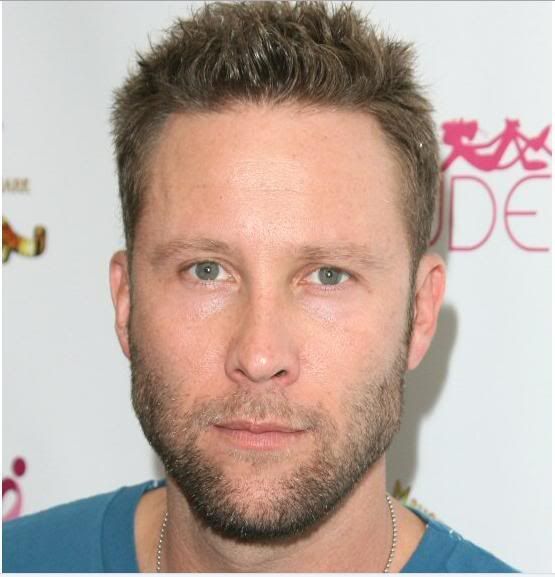 He began his late summer convention circuit with a stop in Toronto. I was so happy - I'd missed him in England, but here he was, in my backyard! And I had a wonderful time meeting
drusplace & her hubby,
myfablexy and
redeem147.

Michael was very lovely in person: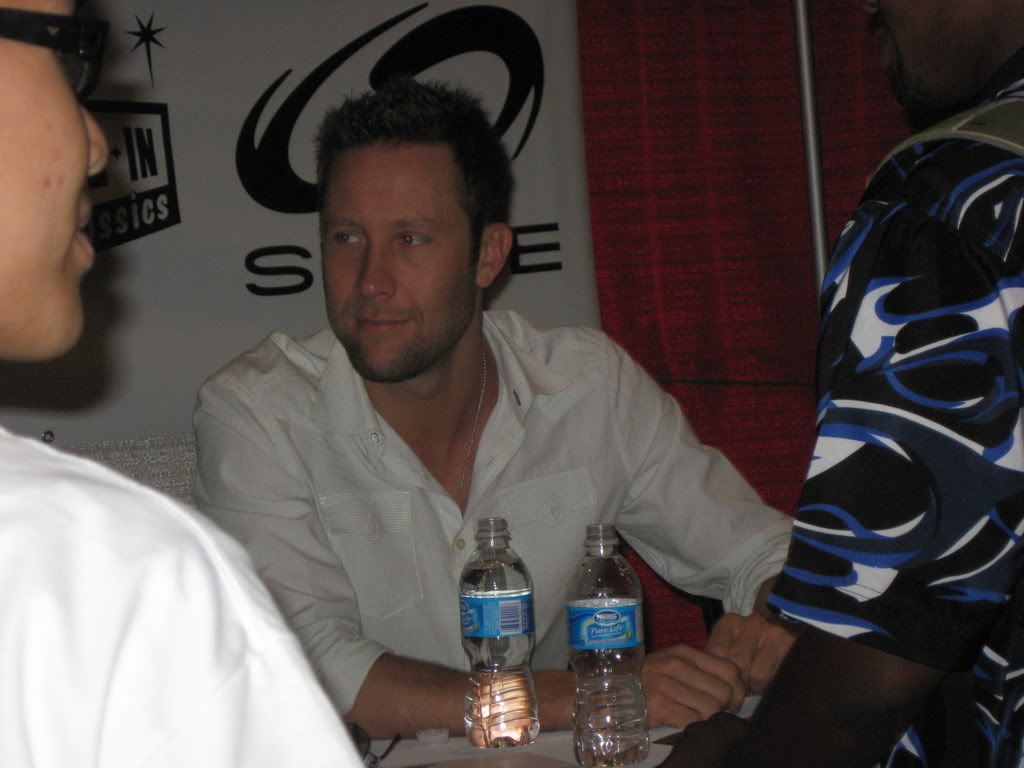 And he and Laura Vandervoort were very funny in their panel, especially riffing off
drusplace's Shear Love question. My other favourite exchange:

Laura *explains that her mother is called Carrie.*

Michael: "Like Kyrie?" He starts singing: "Kyrie Eleison down the road that I must travel..."

Laura: "I'm too young to know that song."

Michael: "That hurt!"

Later on...

Michael: I write a lot. I have a project that I wrote, we have a budget for. We're looking to attract actors...

Laura: *raises hand* "I'm one of those actors you can attract!"

Michael: "You're a little YOUNG though..." *crowd explodes*

They were so cute!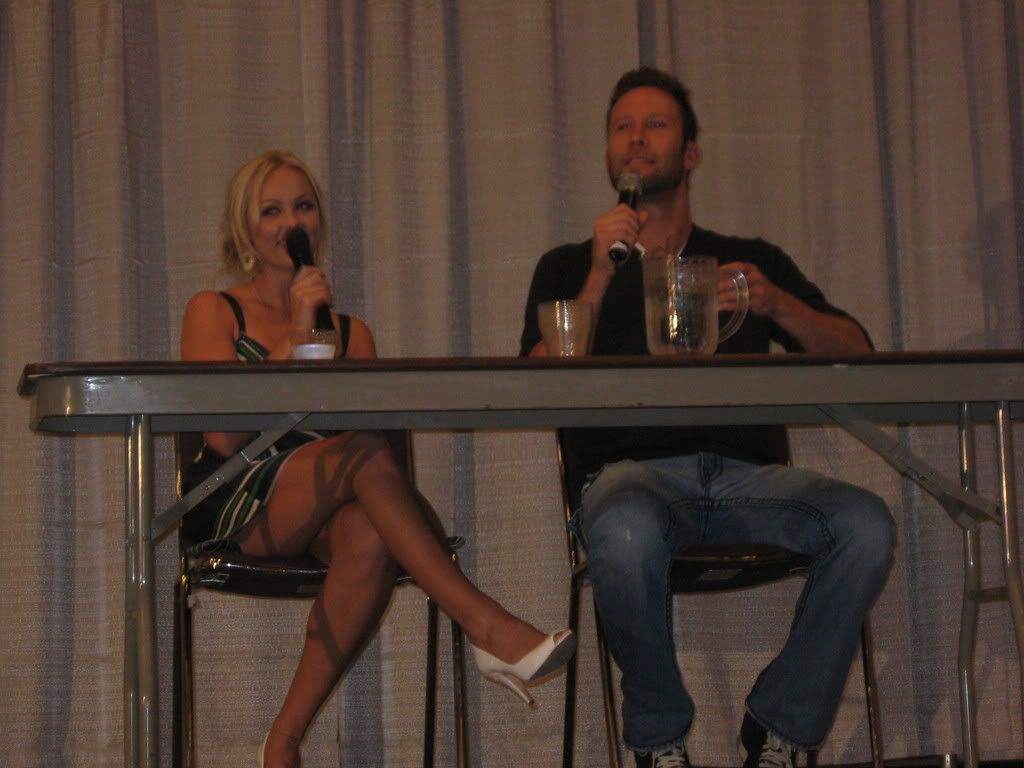 Next up: DragonCon, the scene for many, many beautiful pictures and wonderful Clexy quotes from Michael (one prompted by a question by
myfablexy!)

Michael on Tom:
"You know how many times we would goof because there'd be a moment - well, you guys know about the grabbing-ass thing? You saw those, like I don't think I regret....no one cares. I mean, he's my boy, man! And yeah, we're grabbing ass all the time, touching each other's butts. It's okay! We were buddies and sometimes we'd be in a scene and it's really intense and it's just...."you're so friggin' handsome!" (as Lex) "Forget about all my lies, your lies, let's just live this moment! Keep it real, brother. Keep it real."

(Michael looks over at Chris and laughs.)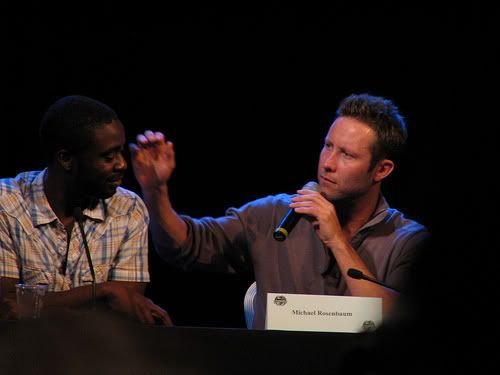 Michael explains "kneel before Zod!"
"That line....I mean, I couldn't do it because...imagine me, standing there in this giant leather - I want to say something but I'm not going to - and it was 20 pounds and it was, like, purple and I was all "Omigod, where is my career going? KNEEL BEFORE ZOD!" You know that line, it was hard not to...when Tom got on his knees and I had to goof around. "KNEEL BEFORE ZOD and" (whispers) "suck it!" I had to say that on camera! 'Cause we're joking around, two guys fooling around.....(crowd laughs) Not like that! Well, when you're comfortable with your sexuality, you can say whatever the hell you want! You know? It's just cool."

Asked about Clex
Michael: "Sometimes Tom and I would laugh...I've said this story before, but Tom and I would be in a scene, we'd look at each other, and I would just say....we'd get real close and it was intense and "get out of here!" and I'd say "Let's forget about the lies. Let's forget about everything. Let's live in the moment. (Michael starts singing) "Here and now, I promise to love you.....Keep it real, Clark. Keep it real. He liked that."

Asked by a Fan about SV's most touching moment:
Michael: "That's a good question...that's good. You know the last one was very hard for me, because it was the last episode, the last moment and it's the last time....and I looked at Clark and I added that line, my very last line of the show for Lex, for Lex in the series, when he looks down and says "I loved you like a brother" and that wasn't written. "I love you like a brother...."

"So that was actually hard because Tom and I actually became like brothers over seven years, working together, laughing together, yelling together, everything. And so, for me, it was a touching moment as a character and it was the last time I was going to be Lex....so I look at him, you know, "I love you like a brother" and actually, there was tears in my eyes...it was a sad ending to the whole show and a big chapter in my life."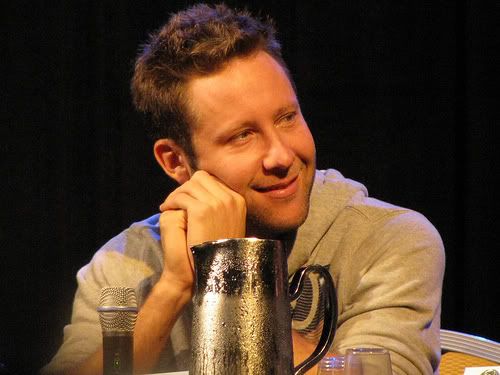 (photo by GraySunrise)

Next up: Collectormania, with awesome reports and photos from
complicat,
hils,
myfablexy,
aurora_bee &
yellowwolf5 and many others! This time. Michael brought his brother!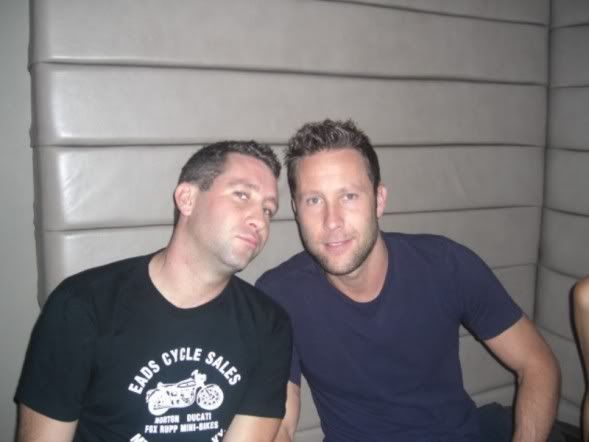 Whew! What a busy year, eh? But I have to include Michael and Hayden seemingly exchanging scandalous gossip after the Madonna concert. Love the shocked hand over Michael's mouth!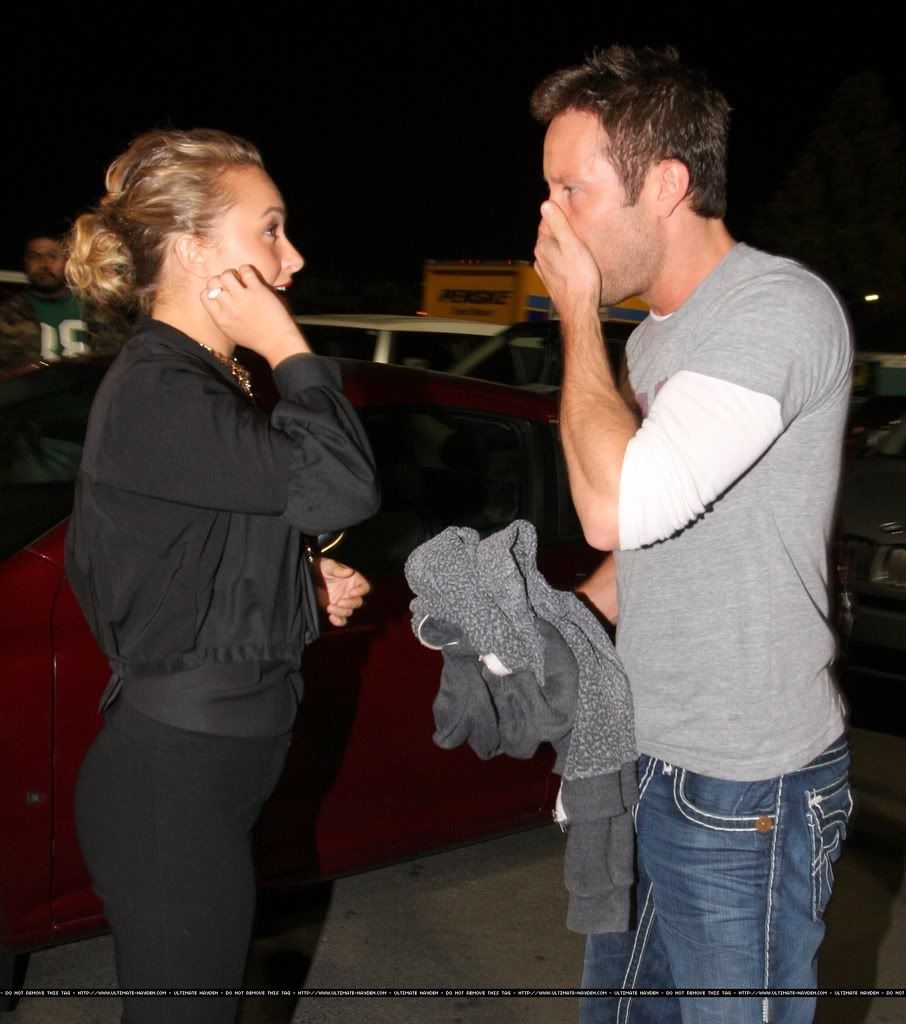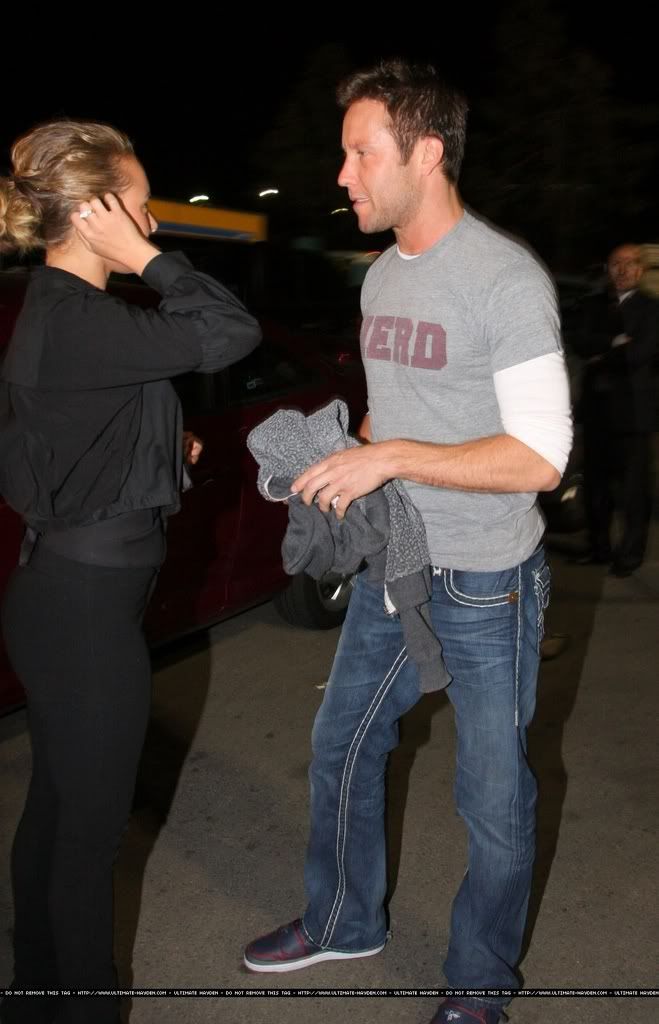 I haven't even mentioned Michael's awesomeness in "Shear love", all the charity events he participated in this year, how forever-smitten I am with his Lex Luthor, his sweetness in "BroSearch", a little (or apparently HUGE!) "Peanus" to wind up the year, all the fabulous YoungHollywood vids....part of the fun of being a Michael-fan is the sheer surprise of him! He's always popping up where you don't expect him and I hope we see lots and lots of him in 2009, 'cause Michael = an instant dose of Happy!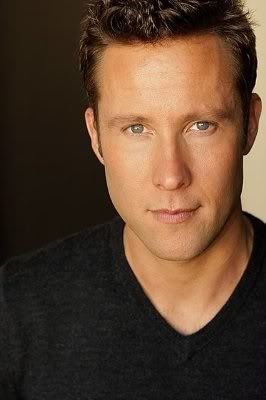 The End! (Ass shot by
serenography)